Teamster Campaigns
This web page provides information on our fight against fast-track legislation. The measure requires Congress to take only a quick up-or-down vote on secret trade deals like the Trans-Pacific Partnership and does not allow such agreements to be amended. It limits Congress' constitutionally mandated oversight of such trade deals and lets others decide what's best for America. The result is fewer good-paying U.S. jobs and unsafe food and products for Americans. Read more to find out why fast track is the wrong track for Teamsters and America.

Workers across the country at FedEx Freight and Con-way Freight are standing shoulder to shoulder to form their unions with the Teamsters to win a more secure future. Momentum is building with a first wave of victories with many more to come.

There is growing worker resentment toward the companies after years of being treated unfairly. While the companies have suddenly made improvements since workers began to organize, workers know that without a legally binding contract the company can take these things away at any time.

The unfulfilled promises that have been made to drivers and dockworkers over the past decade are coming back to haunt management.

But now workers are taking action and standing up for themselves by forming their union. It's a different era now. It's Teamster Time! LIKE our Facebook page, here.

Like

First Student employees' collective bargaining agreement with the company, which covers more than 21,000 workers, expires on March 31, 2015. Employees at First Student made history when they voted overwhelmingly to ratify a national master agreement on June 1, 2011, and it is time to renegotiate that agreement. Turn to this page to get the latest contract news and updates. The first round of negotiations is scheduled for January 27-28, 2015. The national contract expires March 31, 2015.

Teamsters are standing together to protect good jobs as Sysco, the country's largest foodservice provider, attempts to purchase its only national competitor, US Foods. Join our campaign to demand that Sysco and US Foods honor their agreements with 11,500 Teamsters and protect the livelihoods of the men and women who make these companies leaders in the industry. LIKE our Facebook page, here.

Like

Taylor Farms workers in Tracy, California are standing up against poverty wages, disrespect and severe violations of their most basic rights. These 900 food processing workers in the Central Valley cut, wash and package salads and other products for the largest supplier of fresh-cut produce in the country. They feed the customers of major grocers, retailers and restaurant chains, including Walmart and McDonald's.

With a revenue of $1.8 billion in 2012, Taylor Farms can afford to treat its workers in Tracy with dignity and pay fair wages, just like their Teamster coworkers have at Taylor Farms' facilities in Salinas, California. But when workers came together to organize with Teamsters Local 601, the company responded mercilessly. It fired, harassed, and punished workers for supporting the union. The company threatened immigrant workers with deportation, hiring an army of union-busters to run a non-stop fear campaign. During an NLRB election for union representation, Taylor Farms deployed a goon squad of supervisors to intimidate workers. The company's violations were so egregious that the Labor Board impounded ballots while it investigates hundreds of Unfair Labor Practice charges.

Workers in Tracy, following in the footsteps of labor leader and civil rights icon Cesar Chavez, are taking their fight to the public. The workers' struggle for a better life for their families is supported by Teamsters in California and nationwide. We are building a movement for respect for the workers who feed America.

¡Si Se Puede!

Like

After years of unfair regulations and lack of respect, we are fighting back by forming the Washington, D.C. Taxi Operators Association. Our association will be backed by Teamsters Local 922 and the 1.4 million-member International Brotherhood of Teamsters.

The Teamsters have stood in solidarity with worker struggles in other countries since our founding. With economic globalization, our ability to organize increasingly depends on our ability to build alliances with workers on a global scale.
More than ever, Teamsters are organizing and bargaining with multi-national companies. A key objective of our Global Strategies Campaign is to build strong alliances with unions around the globe who organize and bargain with common employers. Our focus is on workers in the emerging global supply chains – the infrastructure of globalization.
Globalization creates new opportunities for international worker solidarity. We seek common cause with workers around the world to build social justice for all workers and the communities in which they live.

Teamsters at Republic Services/Allied Waste have stood together in recent years to fight for strong contracts, including going on strike and supporting their fellow striking workers. Workers continue to fight for strong contracts that include retirement security at the second largest solid waste company. This campaign page is dedicated to those ongoing efforts.

Like

Welcome to Teamster Organizing!

You've heard it said that the best defense is a good offense. In the war on workers, Teamster Organizing is on the offensive! We're winning power for workers across industries and across North America. Join us!
Current RSS Feeds
Copy the feed URL's below and paste them into your news reader or web site news feed area. We offer news feeds for our whats new and headline areas of the home page as well as the content pages of the main menu. Click the links below to learn more about RSS news feeds.
RSS Feed Selections

What is RSS?
RSS stands for "Really Simple Syndication" and allows you to stay up-to-date with news feeds from our web site by delivering headlines as they are updated right to your news reader. You will be able to quickly read the headlines and then visit our site for the full story. RSS feeds automatically deliver direct links to our most updated content on demand to your desktop.
How Do I Use RSS?
In general, the first thing you need is a news reader. This is a piece of software that checks RSS feeds and lets you read any new articles that have been added to them. There are many different versions, some of which are accessed using a browser, and some of which are downloadable applications. Browser-based news readers let you catch up with your RSS feeds from any computer, whereas downloadable applications let you store them on your main computer, in the same way that you either download your e-mail using Outlook, or keep it on a web-based.
Once you have chosen a news reader, all you have to do is to decide what content you want to receive in your news reader, by finding and copying relevant RSS feed links to your news reader.
Popular News Readers
There are many news readers available, most are free. For web based news readers, try My Yahoo or the Google News Reader. The Mozilla FireFox browser has a built-in news reader, or you can find downloadable news readers by clicking here.
RSS Feed Usage Terms
If you run your own website, you can use RSS feeds to display the latest headlines from our website on your site. However, we do require that the proper format and attribution is used when teamsterslocal517.com news content appears. The attribution text should read "teamsterslocal517.com News" or "From teamsterslocal517.com" as appropriate. You may not alter the news feeds in any way. We reserve the right to prevent the distribution of News content.
Action Center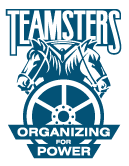 Have friends and family that are AT WILL workers? - Did you know AT WILL Employers can change your wages & benefits AT WILL! KNOW YOUR RIGHTS LIVE BETTER WORK UNION!
| | | | | | | |
| --- | --- | --- | --- | --- | --- | --- |
| S | M | T | W | T | F | S |
| | | | | 1 | 2 | 3 |
| 4 | 5 | 6 | 7 | 8 | 9 | 10 |
| 11 | 12 | 13 | 14 | 15 | 16 | 17 |
| 18 | 19 | 20 | 21 | 22 | 23 | 24 |
| 25 | 26 | 27 | 28 | 29 | 30 | 31 |